A Complete Outfit for an Industrial Revolutionary
By Jude Reid

This is a dress diary for a 1785 working woman's outfit - my entry to the
http://www.yourwardrobeunlockd.com/
Double Period Project, where the challenge is to make a costume based on the Revolutionary Period of history (1770-1789). It's already been posted in installments on LJ community
dressdiaries
, but here is is in one bumper edition for ease of access.
In 1785, the "model village" of New Lanark, Scotland, was founded on the banks of the River Clyde, for the workers in Robert Owen's cotton mills. It was the time of the Industrial Revolution - a time of huge social, economic and technological change. Inspired by this, I set out to make a complete outfit that one of my Lanarkshire ancestors might have worn - a smart, simple, practical outift made with attention to detail and precision - and using the newly affordable machine-woven cotton.
I decided to make a complete outfit from the skin out, which set me several new challenges, incuding constructing my first pair of stays and my first bonnet, scaling and adapting original patterns, and even inventing my own to make a fully convincing, hand-finished costume. I like to think that one of my ancestors would happily have worn this, perhaps on a big day out to the growing port city of Glasgow, where her descendants now live.
The Smock
Materials - 3m white cotton
Notions - white bias tape, white cotton thread
Authenticity - fabric and thread authentic, all visible stitching at neck and elbow by hand.
It seems like I got this project backwards - the smock was actually the last thing that I made! Initially I was going to do it in linen, but when it came to it I didn't have enough of my white linen, and the only stuff I could find was much too heavy. In the end, I opted for a crisp, finely woven cotton, which would have been available at the time, and by the 1780s would have been both legal and relatively inexpensive.
The shift is a very basic pattern - the sleeves are cut
en chemise
(in one piece) with the body, which was a technique known at the time though seen more commonly in surviving jackets than smocks. The neckline is faced with bias tape, rather than the straight grain tape that would have been used at the time as in Costume Close Up. The sleeves are modest in width, ungathered and hemmed by hand. It is below knee length.
The Stays
There are some beautiful stays out there - the prettiest of which are silk, with straps, a tight waist and back lacing. But this didn't fit with my outfit idea - I wanted them to be practical, comfortable, supportive and (crucially for breastfeeding!) front lacing. Rather than the high fashion, half-boned look of the last quarter of the 18th Century, I chose the earlier, fully boned style, which was still in use and seemed very practical for a woman who might need to work in the home, cook and look after a family. I took the plunge, ordered the JP Ryan pattern, and got started.
Materials:
Outer - charcoal grey wool, from Catherine's stash clear-out
Lining - black linen, also from Catherine
Strength layers - stiff linen (millinery?) canvas
Boning - 6mm synthetic whalebone
Binding- Black cotton bias tape, hand sewn
Channels- Machine sewn, topstitching thread
Eyelets - 5mm id two part eyelets, inserted with eyelet pliers and overstitched with black cotton embroidery thread
Lacing - brass tipped cotton
Authenticity: The pattern is correct for the period. The materials are natural fibres available at the time. The plastic whalebone is an ethical approximation of the original material, and is light and supportive, although boning of the period was commonly narrower than I could get in the UK
Metal eyelets are not authetic to the period, but are completely covered with black cotton thread, to imitate the period technique of embroidering over metal rings for strength. The binding is bias tape rather than straight grain tape - a deliberate deviation from historical accuracy for neatness of finish and ease of application.
The major inaccuracy is the machine sewn channels - if I'd hand sewn them I'd still be at it now! The thick thread sewn by machine is a reasonable imitation of the hand-sewn channels- though it's done by modern methods I think the look is right.
Getting started
I didn't realise until my copy of Costume Close-up arrived that the JP Ryan stays pattern is clearly taken from the stays in the book. Even so, it was helpful to have a scaled and sized copy, so rather than having to scale up my own pattern I was able just to dive in. I cut the pieces out of the canvas first, though the canvas was so stiff I had to cut each layer individually.
I knew I wanted to flatline my outer to one layer of the canvas, so used quilting glue spray to stick my outer fabric to one set of the canvas pieces. It was my first experience of using PVA spray, and it worked quite well, though I wouldn't use it on any lighter fabric than fairly dense wool and very thick linen. I wouldn't rely on it for strength, either, but it did at least allow me to work with the two fabrics as a single layer.
After that, I stitched each wool and linen piece to its corrseponding linen interlining piece, again treating them as a single layer. Then, I assembled the two halves of the stays. At this stage the tabs were still uncut, and I left them that way as long as possible.
I folded the centre front and centre back seam allowances into place, stitched them in place and inserted a double piece of boning into each casing. Then, the lengthy work of sewing 8mm channels to place 6mm bones began.
Having tried out several threads for the visible boning channels, it became apparent that normal sewing thread and silk thread would be too thin, and didn't replicate the look of the hand-sewn boning channels of the original. Extra strong polyester topstitching thread looked ideal, so I went with that in the end. It took three spools.
The bone channels were inserted according to the pattern instructions - in channels parallel to the front seam of each piece for every piece except for the back pieces, where the bones were inserted parallel to the centre back edge. The stays became very unwieldy to work with as the bones were inserted, so I sewed as many channels as possible before inserting the bones.
The synthetic whalebone was a very pleasant medium to work with. Each piece was cut to the length of its channel with a 5mm allowance at either end, and both ends filed to smoothness with a metal nail file. A few pieces at the corners of the uncut tabs were left short to allow the tabs to be cut and bound. The canvas gave so much structure to the garment that the boning didn't need to be too hard, and so much of it was used that I was very pleased to find the final garment well structured, but still light and flexible.
Traditionally stays were made with removable lining, which allows it to be removed and laundered or replaced. I decided that given the light wear that mine were going to have, I would sacrifice this option for the sake of neat construction.Once the bones were in, I found that each half of the stays had shrunk by about half an inch. I cut a single piece of lining for each half of the stays, using a light spray of the quilting glue to hold the two layers together. The front and back were turned under and stitched to the front and back seam allowances, then I cut the tabs and applied the binding.
I had considered using straight grain tape as in the original, but in the end decided that the neat finish of bias tape outweighed the authenticity of using linen tape or ribbon. It was fully applied by hand.
Finally, eyelets were placed at 1 inch intervals in a spiral lacing pattern at the front and back. The holes were first made with an awl, then stretched using a pair of needle-nose pliers without cutting the fabric. The sheer thickness of the layers made this a bit of a struggle! The eyelets and washers were placed with eyelet pliers.
The final stage was covering every eyelet with black embroidery thread. As I did it, I cursed them a thousand times - driving a needle through two layers of thick canvas, wool and linen was a hell of a struggle, though getting a thimble helped a lot.
I laced 'em up, tried 'em on - and I've got to say I'm delighted with the result!
What did I learn?
Stays are great! They're remarkably comfortable, and provide great back and boob support. Front lacing makes them much easier to get in and out of, but the back lacing will let me adjust for size variations.
Heavy thread for top stitching is needed. Next time when sewing the channels, I'd sew them into each piece before I sewed the pieces together, because it's tricky to stop as you hit a seam, and a few of mine stopped short of the seam.
I'd add a bit more to the centre front next time - because the pattern is meant to be close-fronted, it needs a little more added. My seam allowances were a bit skinny!
It was an enormous job to both insert and sew around the eyelets - I think I'm confident that the fabric is tough enough to cope with just hand sewn eyelets!
I'm very proud of these - they were constructed with attention to detail and accuracy that I don't usually have in my work. My bar has been raised!
The Pocket
Materials: White linen, White silk organza
Notions: DMC stranded cotton (colours below), orange cotton bias tape
Authenticity: pretty good! The design is copied from an original, and the materials and techniques were used at the time.
The design is from Costume Close Up, and is copied from a 18th century linen pocket embroidered in crewel wools. Mine is 75% of the size of the original, and embroidered in double stranded cotton on white linen, in satin stitch and stem stitch. Often women wore pockets in pairs, but single pockets have also been preserved. I was happy enough making one!
The front of the pocket is a sandwich of embroidered linen, silk organza and plain linen, with a slit bound in half width vintage Laura Ashley cotton bias tape (thanks Gran!) in a matching orange. The pocket front and back (single layer linen) are then sandwiches together and the edges bound with the full width of the bias tape. I did this by hand, and don't regret the time spent at all. The original was bound with multicoloured scraps of straight grain tape - I took the choice to bind mine in bias for neatness.
Two cotton twill ties are attached to the top corners to tie the pocket around my waist.
What did I learn?
Embroidery is great - it seems unmanageable at first, but eventually it all comes together.
Sew binding on in thread that matches the binding, not the bound fabric. Some visible white stitching annoys me...
I love pockets. They're so handy!
I have no idea what kind of plant this is...
DMC stranded cotton - colours used:

Green: 842, 843, 844, 846
Tan: 898
Blue: 849,850,851
Orange: 1001,1003,1004
A few detail shots:
The Bumroll!
This one again was a quickie- I made a little half oval pillow out of a scrap of gorgeous unnleached linen left over from my first aborted attempt at stays (the Butterick pattern- not recommended). I sewed two twill tape hangers into the top seam and stuffed it with some ugly cotton that I found in the stash. Another length of tape through the hangers lets me tie it round my waist. I embroidered my initials on it in white cotton, just for fun.
Does my bum look big in this?
The Petticoats!
Fabrics:
3.5m silver grey cotton sateen
2m white linen
4m white cotton twill tape
3.5m 1.5cm width cotton tape
3.5m 1cm wide cotton tape
I spent ages trying to think of a suitable colour for the petticoats. Initially I was going to use black linen, then thought that it would be a trifle funereal, and also, the opportunity to add detail would be lost. I then settled on bright red, and it took a while to remember that bright red really isn't my colour, and that it was going to be tricky to get a perfect match for the cloak. Finally, I just went and looked at some fabric, and it was the silver grey that jumped out at me. I got an extra half metre for a stomacher.
I wanted to trim the lower edge, but as this was to be a practical garment I didn't want to add frills and ruffles. An illustration in Nancy Bradfield's costume in detail showed bands of ribbon or tape running parallel to the bottom edge, which looked very classy. I found some black cotton tape, which seemed like a better choice than silk ribbon in terms of wear and cleaning. So I had the materials. Why, then, did it take me a week to get started?
Here, a terrible confession - I'm really, really scared of knife pleating. I used to do it in my early kitmaking days - without measuring, without pinning, and trying to jam just way too much fabric onto a waistband. Small wonder that the results were sloppy and lousy. But it's left me with an enduring fear, and an urge to cartridge pleat at pretty much any opportunity.
That was not going to work for these petticoats. You can get away with cartridge pleated petticoats under a gown, but I realised that the smooth line of the jacket would be completely destroyed by the kick of cartridge pleats at the waist - they just stick out way too much. It was time to confront my fear and (as an old boss used to say) JFDI.
I used one width of 60'' wide cotton sateen for the front and one for the back, and worked out that if I made the waistband out of twill tape and tied it front and back, I'd have to pleat the fabric to about a quarter of its measurement. I checked the knife pleating tutorial on the Pirate Dress article, and pleated the front at a 1:4 ratio - and you know, it was really, really easy. So easy, in fact, that I almost immediately made another, shorter under petticoat of white linen. Knife pleating holds no fear. For the back of the over-petticoat, I made a casing with twill tape, and threaded cotton tape to it. That allows the back of the petticoat to be gathered to fit, which is seen in one of the dresses in Costume in Detail, and also in the Revolutionary dress of the Northern Costume Society. It has two advantages - one, that the dress is adjustable for changes in waist size (very useful!) and two, that you can let a little more or less out of the back to let it hang evenly at the hem over a variety of sizes of bum roll. Despite using a modestly sized bum roll, I didn't have to shape my petticoat pieces, and it hangs evenly at the hem.
But another terrible confession. I turned the hem by machine, telling myself that I'd apply the bands of trim by hand to cover the machine stitching. In the end, I machined the black cotton trim on as well - the thought of handsewing all that trim on filled me with dread. If it had been round the neck, I might have considered it, but black silk machine stitching on black cotton tape is virtually invisible, and it's round the hem. So my apologies, o gods of authenticity. But it doesn't show, and the resulting saving of my sanity was worth it.
What did I learn? One petticoat is not enough - you really do need another one to buff out the silhouette. Twill tape was made for waistbands. And knife pleating - pff. Not so scary.
The Bonnet
The bonnet is another first. I've never made a hat from scratch before - but how hard could it be?
Materials:
black silk taffeta, cream silk taffeta, heavy undyed linen. Starched linen tailoring canvas.
Notions:
Black silk thread. Laura Ashley vintage cotton bias binding, black velvet ribbon.
Authenticity:
This is based on an image rather than an extant example, so I had to make a best guess at construction. Black silk was a popular choice for bonnets of the period, and the other materials would have been available- except, alas, the synthetic velvet ribbon. I couldn't find silk velvet.
I found a few references to bonnets in primary sources and re-enactors guides, but images of working class women's hats were hard to find. On the excellent Mara Riley site, however, I found an original etching from 1774, showing a lace seller in a black 'poke' bonnet. And on my shelf, an unused pattern from Timely Tresses for a 1795-1810 Regency bonnet - the 'Julia'. The shape was perfect, so I gathered my materials and got to work.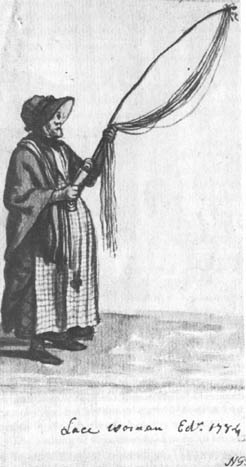 I had black silk taffeta from Catherine's stash clear out, some scraps of cream silk taffeta to line the brim, and some thick unbleached linen for interlining. Half a metre of the same starched linen collar canvas was acquired for the brim, as well as a metre of black velvet ribbon for ties. Finally I looked a length of vintage black Laura Ashley cotton bias binding out of my 'presents from gran' stash, and got to work.
I used the shapes from the pattern, but assembled tha hat differently. To begin with, I knew I'd be wearing it over my cap, and didn't want to add another layer of linen lining. I also wanted to assemble it by hand, and their instructions seemed to make more sense by machine. So, I cut the brim shape (no 3) twice in canvas, and glued black silk to one side and cream to the other.
To cover the raw edges, I hand sewed the bias binding, until I had a finished brim ready to attach the crown. To make the back of the hat, I covered a narrow strip of canvas in the bias tape, and sewed it to make a complete circle with the brim - kind of like a georgian sun visor...
The crown was a big circle. I used two layers of silk and one of linen, and arranged them so that they were sewn right side to right side. When turned the right way out, the drab linen was sandwiched between the silk, and I slip stitched the opening closed.
After that I just had to cartridge pleat the crown evenly onto the brim. The last step was to chop the ribbon in half and sew on half to each side of the brim, and tie them under the chin. I swanked around the house in my dressing gown and bonnet, feeling like Jo from Little Women!
What I learned:
-Hats aren't too hard if you put your mind to it. I think I could do one with a separate lining next time, and I'd love to try some of the later styles and decorations.
-Cut the brim fabric on the bias. In fact, the pattern instructions suggest it, I just didn't read then closely enough. Bah.
-If I was doing this again, I'd use millinery wire to stiffen the brim. It's not a big problem, but it saves starching the brim every time it gets damp.
-This style of bonnet was popular for a VERY long time! So maximal usage :)
The Cap
Pattern: JP Ryan lapped ear cap - adapted
Materials: White medium linen, silk organza interlining, cotton bias tape, 5mm cotton tape, white silk thread
Authenticity: Visible materials correct, interlining speculative and unsubstantiated. All visible seams sewn by hand
After the mammoth undertaking that was the stays, I wanted to make something (relatively) quick, soft and easy - the hat! So, I cut the pattern pieces for the JP Ryan lapped ear cap, and away I went.
I decided to hand sew it. The first step was making a hand-rolled hem at the front edges, and I was almost immediately displeased with the result. The brim was limp and floppy, dragged down by the roll at the edge. I soldiered on, made both ears (which didn't quite match), attatched them to the crown and put the ribbon drawstring in at the back. Trying it on, it wasn't bad, but there was a droopiness to it that was at odds with the caps of period paintings.
So back to the drawing board! I raided the stash and found a piece of silk organza, and this time decided on one brim rather than two, self-lined rather than roll-hemmed. I interlined both the brim and the brim lining with a layer of silk organza each, and used two layers of silk organza in the unlined crown. I used a piece of white cotton bias tape for the casing at the rear, and threaded a piece of white cotton tape through for the drawstring. This time, on trying it on, I liked it. It had a lovely fresh crispness to it.
My gran was probably right in saying that there wasn't much wrong with the first version that a good starching wouldn't fix, but I'm still happy with my modifications.
The Jacket
Materials:
1.5m Charcoal grey wool (Catherine's stash!)
1.5m black linen
Notions:
Black silk thread
8 15mm self cover buttons
2m 10mm black cotton tape for lacing
Some pins. Unless you are very brave!
Authenticity:
All visible stitching by hand, all machine stitching concealed. Materials and pattern authentic.
It's astonishing how much momentum this project has picked up as the end comes into sight. After the stays, which took an insane amount of time, and the fiddly horror of embroidering a pocket that no one's going to see (sigh), I'd forgotten how little time it takes to actually make clothes!
I spent a while choosing the style of jacket I wanted to make - the JP Ryan pattern comes with several options, and I cross referenced them with the Janet Arnold book, and Nancy Bradfield's book. I decided on simple sleeves without cuffs, as I felt they'd be more practical, and decided on a front lacing jacket over a stomacher rather than pinning centrally, really just for the aesthetic. Despite what the pattern says, the longer jackets seem to have been worn at the same time as the shorter ones, at least into the 1780s, so I chose the length I preferred!
It was a nice simple jacket to make - two fronts, two side fronts and two backs, which fitted very nicely over the stays. I machined the outer shell body together first, then the lining, placed it right side to right side, machined it together and turned it, leaving a gap at the bottom hem to turn it through, which I then slipstiched together from the right side. I used the sleeve pattern without a tuck at the inside elbow - again, it just struck me as more practical. I wanted this outfit to be something I could look after a baby in without any restriction of movement.
In the photos below, the stomacher looks wrinkly on Mabel the Dummy - that's because she doesn't quite mould to the stays the way I do, and has a slight "ramming prow" effect at the front. It's much smoother on me.
I sewed the sleeves into tubes, and sewed the bottom edge right side to right side and then turned them the right way out. Then I fitted the sleeve cap of the shell fabric into the armscye, with three small pleats at the back of the sleeve head to make it fit and allow movement. I then machined through the shell of the sleeve, the outer and the lining of the body of the jacket and the sleeves were in! Finally, I slipstitched the sleeve lining to the shoulder seam, covering all the raw edges and pretty much finishing the jacket.
I placed five buttons down each front, evenly spaced. These were 15mm metal self cover buttons, covered with the same black silk taffeta as the bonnet. It became clear that lacing around these would not be sufficient to hold the jacket together, but a few pins holding the edges to the stays meant that the lacing could be purely decorative, which I don't really mind.
The stomacher was very easy - just a layer of cotton sateen for the outer, a layer of black silk for the lining and an interlining of cotton canvas. I didn't bother making tabs for it, and just pinned it directly to the stays.
What did I learn?
Be accurate! Good accurate cutting saves time in the long term. And don't rely on buttons to lace around - pins are your friend. And a little extra security on your jacket never hurts.
The Apron
The apron didn't take long. A piece of white linen, sixty inches wide by a metre long (I'm not the only person I know who sews in inches and metres - I have no real conception of how long a yard is, but an inch is such a handy unit of measurement. Is this a British phenomenon?), hand hemmed down all four sides, then with one of the long edges cartridge pleated to a piece of (you guessed it...) cotton twill tape.
Bonus Fichu!
Materials: 1 m cotton muslin, some bleach, cotton thread
This one was a breeze! I cut a 1m square of unbleached cotton muslin, and bleached it in the washing machine, then boil washed it. It not only bleached it from drab to a pale cream, but tightened the weave up a bit. I then turned a narrow hem on three sides and running stitched it in place, and left the selvage as it is. Fold in half down diagonal, tie round shoulders. You can see it in the bonnet photos- very modest! I prefer the look of the jacket without. How scandalous of me...
The Cloak
Materials: 3m 80 of scarlet wool broadcloth, fullled, napped and sheared. Scraps of cream silk taffeta (from a previous project)
Notions: Red and white silk thread. 1m red and white longitudinally striped grosgrain ribbon. One large hook and eye. Two 1 1/2 inch self covered buttons.
Pattern: Costume Close-Up Woman's Cloak, taken from original.
Authenticity: Outer and lining fabrics correct. All visible stitching by hand in appropriate thread. Modern shank to self cover buttons (seen only on point-black inspection). Ribbon visually correct but of unknown composition!
Right. If there's one piece of kit I know how to make, it's cloaks. As a larper and frequent cloak-maker to the local club, I'm never short of a reason to make a cloak. But once again, I wanted to make something different. I also suffer from a terrible infestation of "PointyHead" in my cloaks - no matter how I cut the hood, it always ends up with a cheery little pixie point at the back. It was with some interest, therefore, that I found the cloak in Costume Close-up: a beautiful, traditional half-circle cloak, with a gathered neckline and (critically) a non-pointy hood. The most striking thing about it is the colour - it's a wonderful vivid scarlet, popular at the time because red was seen as being a "warm" colour.
The original is scarlet wool, 1m10cm long, and gathered at the back neck to provide shoulder shaping. The hood is gathered into a rosette at top of the rear seam, and is lined in silk, with silk taffeta facing the front edges of the body. The original is pieced due to the width of the fabric.
My first attempt at fabric for this featured two packets of Dylon machine dye (tulip red) and an old double wool blanket. Unfortunately, the sheer volume of material proved too much for my trusty washing machine, and I ended up with a felted tie-dyed pink blanket - not exactly what I had in mind. I did consider trying again with more dye, but a quick ebay search found me a good length of scarlet wool broadcloth, identical to the cloak's material, and critically enough of it for under £20.
I scaled the pattern up, and adjusted the length to use the full width of my fabric, making a mid-calf rather than a knee length cloak. Rather than preserve the piecing, I cut one semicircle for the body and cut the hood in one piece on the fold. I lined the hood with an identically shaped piece of cream silk, and finished it as a single piece. The front edges and neckline of the body were faced with separate pieces of silk.
Back neckline of the hood:
Here it's inside out, with the shape of the facings shown.
The finished edges of hood and cloak were oversewn together by hand, first with red silk thread through the wool, then bringing the lining into opposition with white silke thread. The back neck of the body was cartridge pleated to the hood and the top four inches of the back seam of the hood was cartridge pleated radially into the rosette shape. The hood lining was simply gathered along the corresponding part of the back seam and sewn down.
As per the original, the bottom edge was left raw, trusting to the tight weave and the felting to keep it from fraying.
It can be closed by two ribbon ties. Two 1 1/2 inch self covered buttons decorate the neck area (and I suppose could be used to hook the ribbons around). I considered using a large hook and eye, but couldn't find documentary evidence.
What did I learn?
This is definitely the best cloak I've made - the historical pattern is very good, and eliminates a lot of the problems of semi-circle cloaks without gathering at the neck (they don't close properly unless you put shoulder shaping in, which costs you length and makes the hem hang unevenly). And the non-pointy hood is a godsend. Taking the time to hand-finish it was definitely workwhile.
It does make me look like I'm off to Grandma's house, pursued by wolf, but I should have known. And cosy? There might be something in this "red-for-warmth" business after all.
And that's it - a complete 18th Century outfit from skin to cloak. It seemed unmanageable when I started it, but it was just a question of breaking it down, one piece at a time. Now, all I need is somewhere to wear it to...
And...
I got a bit carried away and made an outfit for my daughter as well - so here's Julia as the Revolutionary Infant!
This is a very easy little dress, modelled on the lovely portraits you see of late 18th century families. For once, children's fashion seems to be leading the way, as long before adult women start modelling the chemise dress, little girls (and boys) are painted wearing white dresses, closing at the back, with coloured sashes.
I decided to keep it simple, and machine sewed it for speed and durability. The dress is a plain A-line, with the outer fabric a fancy sheer cotton muslin with a tiny spot and the lining, which shows through a little, blue cotton. The sleeves are single layered muslin, and attached to both layers of the bodice. The dress closes at the back neck with cotton tape ties, and a blue bias cut cotton sash ties round the waist. It took less than an hour, all told - a perfect project for nap time.
The bonnet, alas, I did not make -I bought it at a craft sale.
Julia in her dress:
Just a very simple A line, and two neckline shots: